Chip Resistor Corrosion
SEM Lab, Inc. has seen the same type of resistor failures repeatedly since ~ 1997 when we were founded. The trigger appears to be the local environment where the resistors are deployed, for example ...
A computer module in a tractor.
Fireworks display controller. Boards coated with ~ 0.300 inches of Dow Corning "tough gel".
A display at an outdoor drive-up kiosk.
Many other previous analysis efforts where the source of sulfur is unexplained.
The problem, sulfur pollution and corrosion of silver, is illustrated in Fig. A and explained thoroughly in references [1] & [2]. The resistors increase in value and eventually fail open.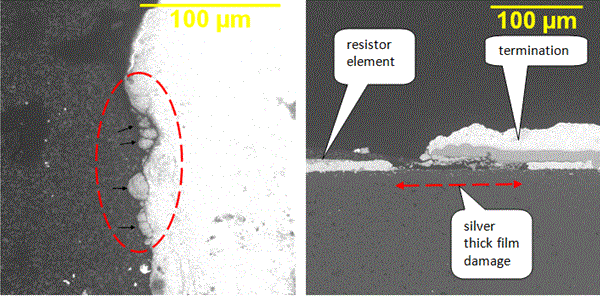 Fig A - Illustration of corrosive attack of edges of termination. Gaseous H2S or COS is the likely source of sulfur [1].
References
[1] Craig Hillman, Joelle Arnold, Seth Binfield, Jeremy Seppi, "Silver And Sulfur: Case Studies, Physics, And Possible Solutions", DfR Solutions, College Park, MD, USA, 2007, email - askdfr@dfrsolutions.com, http://www.dfrsolutions.com/uploads/publications/2007_10_silver_and_sulfur.pdf. link
[2] Marie Cole et al, "Harsh Environment Impact On Resistor Reliability", SMTA International 2010 Conference Proceedings, http://researcher.ibm.com/researcher/files/us-kleinl/Resistor_Harsh_Environ_final_SMTAI2010.pdf.